Great success for KTH & PDC in innovations towards exascale
3 of 9 EuroHPC JU CoEs lead by PDC at KTH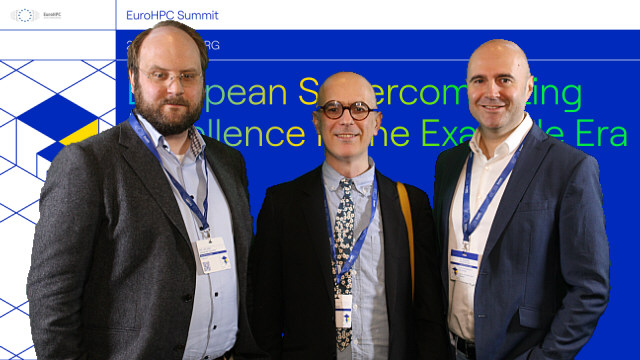 Published Mar 24, 2023
As supercomputer technology progresses rapidly towards achieving performance in the exascale range, software applications need to be modified or, in some cases, completely redesigned and rewritten to make efficient use of exascale capabilities. That needs to be done ahead of, or at least in parallel with, the technological developments so that researchers will be able to start utilising exascale systems as soon as they are available. A lot of preliminary work is needed to prepare for the transition to exascale computing.
Europe has been preparing for the transition by establishing Centres of Excellence (CoEs) for High Performance Computing (HPC). These began in 2015 under the auspices of the EC Horizon 2020 programme. In 2018, the European High Performance Computing Joint Undertaking (EuroHPC JU) was set up and, in 2022, it launched calls for CoEs to undertake research and innovation actions that would develop and adapt HPC applications for the exascale and post-exascale eras.
Nine European CoEs were awarded EuroHPC JU funding, which began at the start of 2023; some are completely new centres, while others are continuations of already existing CoEs. Of those nine newly funded CoEs across Europe, KTH is coordinating three.
BioExcel , the Centre of Excellence for Computational Biomolecular Research, is directed by Rossen Apostolov at PDC. It was established in 2015 to provide life sciences researchers with high-quality, user-friendly software and to increase their HPC expertise and skills. This extension of the project is known as BioExcel-3.
CEEC , the Center of Excellence for Exascale CFD, is directed by Niclas Jansson from PDC. CEEC focuses on adapting and developing computational fluid dynamics (CFD) applications for exascale.
Plasma-PEPSC , the Plasma Exascale-Performance Simulations Centre of Excellence, is directed by Stefano Markidis at PDC and will support exascale application development for plasma science in a range of research areas.
In addition, KTH and PDC are partners in two more CoEs: EXCELLERAT , the European Centre of Excellence for Engineering Applications, and PerMedCoE , the Centre of Excellence for Persolanised Medicine. PDC has been heavily involved with Excellerat since it started in 2018 and will continue to assist its mission of providing expertise (particularly to the aeronautics, automotive, energy and manufacturing sectors) on utilising HPC to benefit engineering research and development as we move towards exascale.
It is a really great success for KTH and PDC that the EuroHPC JU has awarded funding to continue BioExcel and EXCELLERAT and to start up CEEC and PLASMA-PEPSC. These CoEs are all high profile projects for HPC research and innovation with a major impact on science and technology.
Recently, the directors of the three CoEs that are being coordinated by KTH all attended the EuroHPC Summit in Gothenburg, which ran from 20-23 March 2023. This year's summit focused on "European Supercomputing Excellence in the Exascale Era". Stefano Markidis gave a presentation on the "Scientific Expectations in the Exascale Era" for researchers from the astrophysics and space physics communities, and Rossen Apostolov was one of the organisers of the open workshop session about about Centres of Excellence and National Competence Centres.