HPCE3 Grant Approved by European Commission
The European Commission has recently granted approval for a proposal for a new European project called HPC-Europa3 or HPCE3.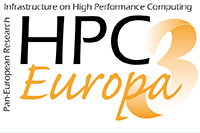 HPC-Europa3 aims to ensure that a high quality service providing transnational access to the most advanced high performance computing (HPC) infrastructures is persistently available in Europe for the European research community. European researchers have been able to rely on the existence of such transnational access activity for almost two decades, and the main aim of this new innovative third edition of HPC-Europa series of projects is to fill the gap that has been left in the four years since the end of the last HPC-Europa initiative.
HPC-Europa3 is also a powerful force for enlarging the HPC PRACE user base by supporting researchers early on in their careers in HPC and numerical simulation, and by dedicating attention to two European regions where there is still potential to improve the HPC environment for research: the Baltic and the Western Balkans regions.
The objectives of HPCE3 are to:
provide researchers with access to eight European HPC centres (with a target of 1,220 visits), via a single application and an international peer-review process, free of charge and with minimal administrative overhead,
provide mentoring in the usage of the most advanced European HPC facilities,
facilitate new scientific collaborations to be formed within an extremely wide network of scientific host labs in all the computational sciences domains,
increase awareness of the benefits arising from the use of HPC amongst small and medium-sized enterprises or SMEs,
increase synergy and collaboration with other HPC initiatives, and
identify a long-term sustainability roadmap to facilitate future access to HPC resources.
The HPCE3 project is based on a program of visits for undertaking approved HPC research projects. These visits will be in the form of traditional transnational access with researchers visiting HPC centres and/or scientific hosts where the researchers will be mentored scientifically and technically to enable them to take full advantage of the HPC resources in their research. The visiting researchers will be funded for travel, accommodation and subsistence, and provided with an amount of computing time suitable for their approved research project.
The HPCE3 project started on the 1st of May 2017 with the kick-off meeting. If you have questions about the HPC-Europa3 project, feel free to contact Dr. Lilit Axner .